Invest in a Guitar That Will Hold its Value for as Long as You Own it
2011 Paul Reed Smith
Modern Eagle Quatro
With
Artist Grade Maple Top
and
SOLID ROSEWOOD NECK
Beautiful Tobacco Burst  Finish
Virtually Un-Played
Searing PRS Tone From the Factory 53/10 Pick-ups
Augmented by the Vibrant Sustain of the
Solid Rosewood Neck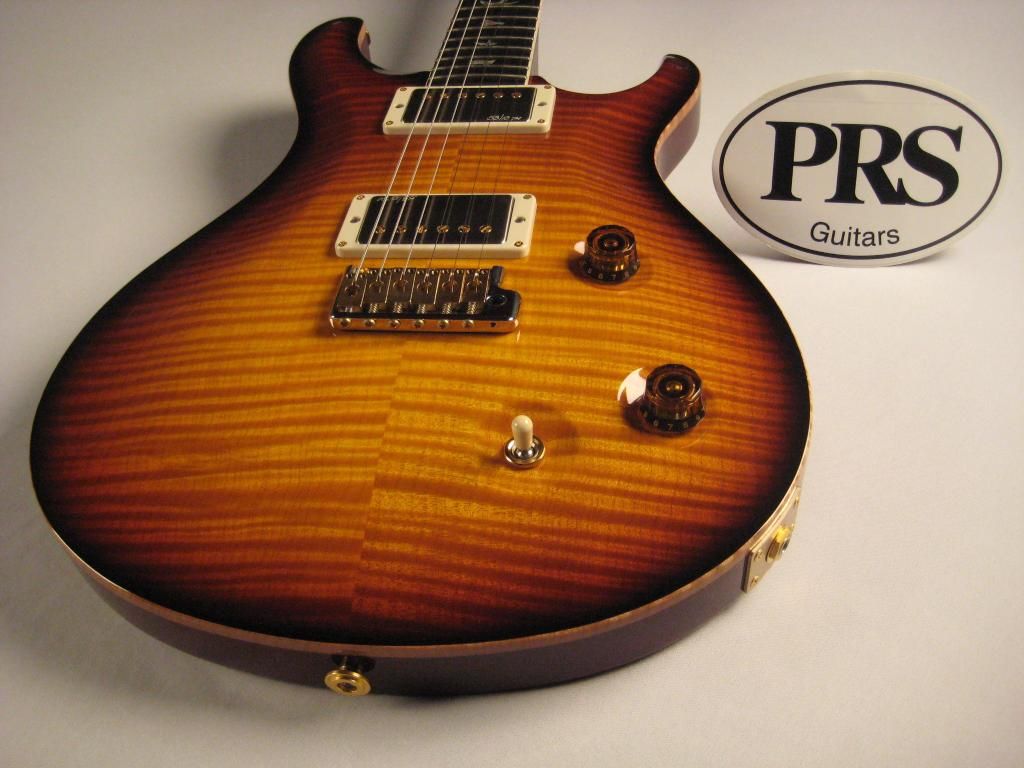 This is the first Modern Eagle PRS guitar that I've ever owned or even held. All USA PRS guitars of extremely high quality but these special edition Modern Eagle guitars are simply a work-of-art in craftsmanship.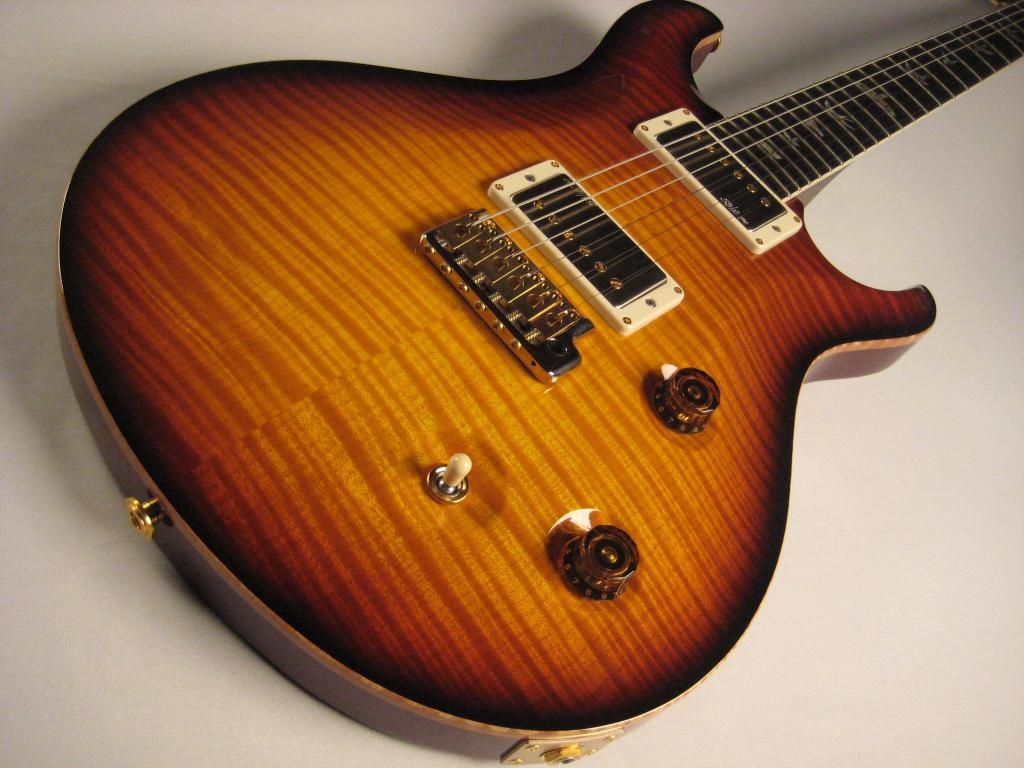 Here are some things to think about as you look through the pictures. Read more at the bottom of the listing page.
• A Collectable High End Guitar, Meticulously Made of the Very Finest Materials
• Stunning Artist Grade Flamed Maple Top
• Outline Bird Inlays with Paua fill
• A Solid Indian Rosewood Neck
• Cocobolo Headstock Overlay
• Hybrid Hardware
• Factory Original Brushed Nickel 53/10 Pick-ups
• White Neck Binding for Easy Orientation Even Under Dim Stage Lights
The Modern Eagle Quattro is the highest level of production model guitars that PRS offers. Artist grade top, solid rosewood neck, hybrid hardware, filled bird inlays with white neck binding. It delivers everything that you pay for and more. This one is simply DEAD MINT as well. It has never been gigged and is virtually un-played. No nicks, dents, scratches, dings or even swirls to be found. I bought it from the original owner who bought it from GC. Put it in a glass case if you like. It deserves the honor. The tobacco burst finish is simply beautiful. You can see the flame all the way to the edge, even though in some of the pictures it looks as though the top is black around the edges. There is no black on this guitar. The pictures are pretty good In direct view the top looks even nicer than it does in these photo's.
Rosewood neck guitars have extraordinary tone and sustain. The frets are perfect. There is no paperwork or hang tag but in my experience this is closest to a wide/thin neck carve. The brushed nickel, Hybrid 53/10 pick-ups are rare and deliver a full warm tone. The guitar is a work of art. What's not to love? Comes with the original trem bar and a white 25th anniversary case as photographed above, which is not original to this particular guitar. The case has one little ding in the tolex on the front near the signature.
Check my e-Bay feedback profile ( e-Bay seller dm-2 ) and/or e-mail me with any questions. Over 140 of my e-Bay feedback ratings are from PRS guitar sales. PRS guitars are an investment. You'll ALWAYS have the option to re-sell it for as much or more than you paid.
Please be sure to take a moment and click here to look at my ABOUT page or access it from the top menu bar. You can click HERE to access my e-Bay feedback profile ( e-Bay seller dm-2 ) directly as well. I encourage even the smallest of questions so always feel free to e-mail me any time.
This guitar is also listed on e-Bay with a starting price sharply higher than what I'm asking here at my home page. Why pay more than you have to? Check my feedback and buy it here. Send me an e-mail and we'll talk. If you've come to this page directly through an organic Google search, click this link to see a list of all the vintage PRS guitars that I currently have for sale before leaving this page.
$3250 Includes Ground shipping to the lower 48
You've seen what's out there. This is an incredible PRS guitar at a great price…. Pull The Trigger!!!